Handicapping the Conclave
Okay, usual caveats apply. Now, I am not going to give one specific name, that would be unfair to me. instead, I will offer five names and if one of them becomes Pope, I win.
A few notes:
1. Ratzinger is going to fall short and then momentum will begin to build for someone else
2. John Allen is saying that the latin Americans cannot settle on a candidate and are now resigned to the fact that their time may not yet have come
3. If Latin America's star is dropping, the Africa's is rising hugely
So Here are my picks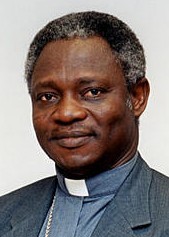 Pick #1:
Cardinal Peter Turkson
, Archbishop of Cape Coast, Ghana.
More about him,
here
,
here
, and
here
.

Pick #2:Cardinal Wilfrid Fox Napier, South Africa.
Vatican biography
.
Even John Allen agrees
with me here.
More info here
.
Pick 3: Cardinal Walter Kasper of Germany
Pick 4: Cardinal Schonborn of Austria
Pick 5: Cardinal Theodore McCarrick. He is the one American that has a shot.
The last three need little introdiction.
Also,
in a previous post
, i definitively stated that the next pope shall be called, Pope Leo XIV. So there you have it.